The Fourth of July (aka Independence Day) is a holiday commemorating the adoption of the Declaration of Independence on July 4, 1776 and the legal separation of the Thirteen Colonies from Great Britain. To celebrate such an important day in our nation's history we grill meat, drink beer, and blow stuff up!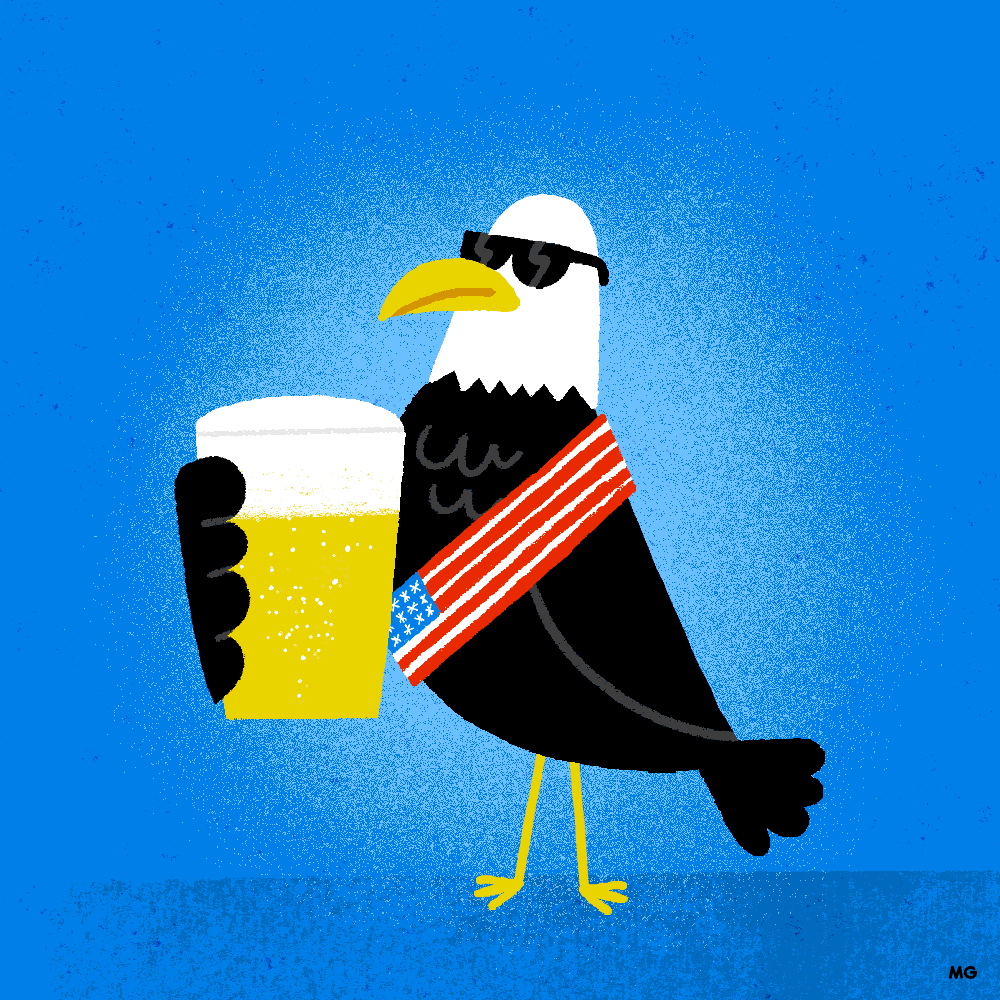 But what if you are not into all three of those things (i.e. do not like beer)? We have you covered with a variety of wine and liquor specials for the Fourth of July that will satisfy any palette and help you choke down Uncle Bill's overcooked burgers.
Sokol Blosser – Estate Rose of Pinot Noir 2014
Rosé of Pinot Noir exhibits flavors of strawberry, cream and ripe fruit on the
palate.
Suggested Pairings: Fresh seasonal fruit, wild salmon, seared Ahi tuna salad or crab ceviche.
Regularly: $21.99. Sale: $11.99
Francis Ford Coppola Chardonnay 2014
Awarded 'Best of Class' in 2012 San Francisco Chronicle Wine Competition.
Bright and balanced, highlighted by juicy apple, cantaloupe, and pear flavors enveloped in a crème brûlée finish.
Regularly $16.99. Sale: $12.99
Blackstone Winemaker's Select, Multi-Varietal
Widely known for their merlot, Blackstone winery aims to "craft wines that complement food and any occasion in which you celebrate the things in life you can count on." Try their merlot, cabernet sauvignon, or zinfandel at a third of the cost.
Regularly $15.99. Sale $10.99.
Chateau Haut-Pingat French Bordeaux 2014
Round, firm, and good tannins – good wine to have with grilled meats.
Regularly $16.99. Sale $10.99.
Indaba Chenin Blanc, Sauvignon Blanc, and Chardonnay
Stylistically fresh, juicy and approachable, these wines are food friendly and offer a bottling for every palate. Consistently garnering "Best Value" and "Best Buy" accolades, Indaba Wines present character and structure well beyond its price. Read about Indaba's varietal here.
Regularly $12.99. Sale $17.50/2
Mapreco White Vinho Verde
From Winemag.com: "A sweet Vinho Verde, it has character as well as freshness. Apples and crisp acidity combine to give a bright, breezy wine that should be drunk this summer."
This is the perfect wine for those who want something they can sip on throughout the day due to the lower alcohol content (but still, enjoy responsibly).
Everyday low price: $8.99
Rough Rider Bull Moose Rye Whiskey
Named after former president and Long Island native, Teddy Roosevelt, and the United States First Volunteer Cavalry whom the president organized himself. Crisp with a fruity sweetness on the nose followed by spice, caramel, vanilla and blackberry on the palate with a long, warm, toasty, velvety finish. Use in Teddy's Old Fashioned.
Everyday low price: $40.99
Basil Hayden's Bourbon
Singular small batch bourbon whiskey that with rich hints of peppermint, notes of pepper, slight citrus overtones, and a spicy, warming finish.
Regularly $49.99. Sale $44.99.
---
---